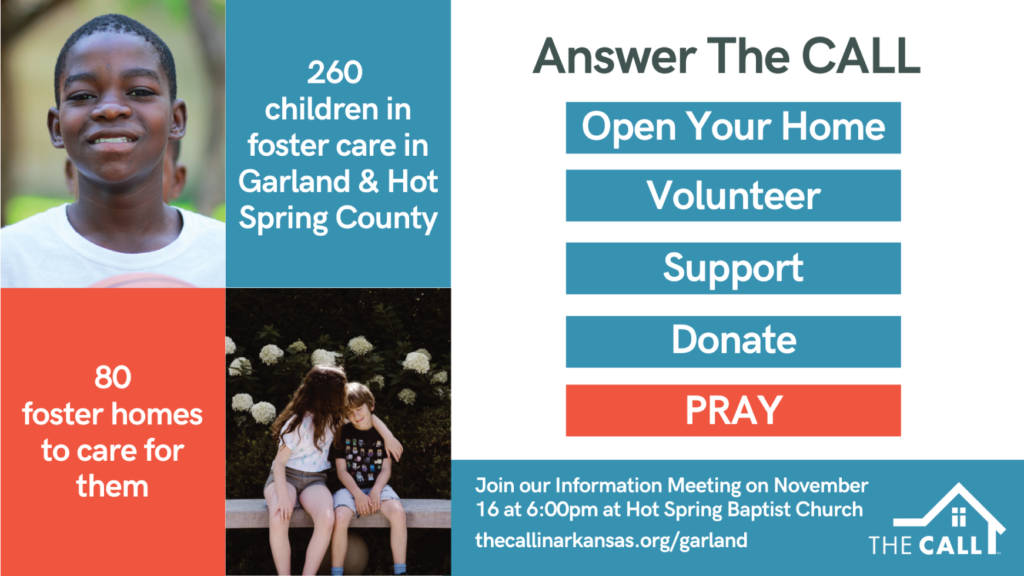 Stand Sunday 2021
November 7, 2021
There are 260 children in foster care in Garland and Hot Spring Counties, and only 80 open foster homes to care for them.
The CALL is a faith-based nonprofit that works in 57 Arkansas Counties.
Their mission is to equip the local church to recruit, train, and support families to care for children in foster care.
We know that God's heart is inclined towards the outcast, the widow, the orphan, and the vulnerable. We see Him caring for these kinds of people all throughout Scripture. And we know that He calls His church to join Him in this work.
There are probably people in this room today who have felt the Holy Spirit calling them to care for children in foster care. If that's you, I encourage you to step out in obedience. Take the first step to live out this calling.
The CALL is hosting an informational meeting on Tuesday, November 16th at 6 pm at Hot Springs Baptist Church for anyone who is interested in learning more about foster care. This is a great place to ask questions, find volunteer opportunities, or even start the process to open your home for foster care.
For more information, you can contact Tonya Ross at The CALL in Garland & Hot Spring Counties at (501)772-2522 or

[email protected]

or visit thecallinarkansas.org/garland.